"Terrifying," says University of Indonesia (UI) student Vitorio Mantalean despite having learned after watching YouTube footage that whale sharks are tame.
"The real-life sensation is different from watching them on YouTube. So huge and overwhelming! Intimidating!"
Not surprisingly, these sea behemoths, present throughout the year in Akudiomi's customary marine territory in Cendrawasih Bay National Park, Nabire in Papua, are locally called hinio tanibre (sea ghosts).
Vitorio and his alleged intimidator were hanging around the Cahaya Nurul bagan (lift net fishing platform) where a fisherman was feeding two sharks with bucket loads of silvery fish as bait called ikan puri.
Although swimmers are officially required to keep a three-meter distance, in reality this is impossible to observe.
"The spotted shark unexpectedly moved closer to me. Terribly scarred, I swam back to the boat in a hurry," said Environment and Forestry Ministry officer Risty Meirish, whose bare feet inadvertently touched the shark.
"The skin felt rough," added the young woman, feeling relieved, excited and thrilled after learning that the elasmobranch did not chase her and instead calmly swam around.
"My heart was wildly pounding out of my chest when my foot suddenly nudged that slippery tail," said another ministry officer, Hening Parlan. The mother of two turned away with horror when suddenly realizing how close she was to an enormous gaping mouth.
An Islamic State University student, Rahmat Fauzi, appeared to be at ease with the sharks. Apparently, he managed to keep himself unnoticed by the sharks. "I was terrified at first but then it was just swimming as usual," he said inexpressively.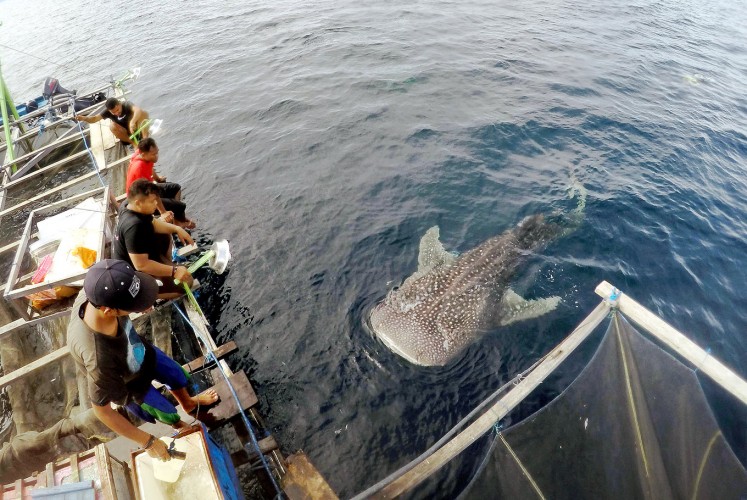 Up above, watching intensely on a speedboat was 69-year-old Rose Mary, the eldest lady in our group. She hesitated to jump into the ocean although she had already put on her snorkeling fins. "Getting back into the boat won't be easy," she said, later regretting her indecisiveness and vowing to come again one day.
Two ministry officials, appearing totally uninterested, sat in the back of the bagan, far from the excited crowd at front, to smoke leisurely.
I decided not to go underwater after seeing one of our group members getting seasick and throwing up several times near the feeding spot. The bagan had no toilet and everyone on board answered the call of nature directly in the ocean, making the thought of swimming a turnoff.
Meanwhile, the feeding spot was so crowded with group members wanting to feed that I struggled to get a clear view of the sharks. Finally, I managed to watch two docile, happy-looking filter feeders that looked like adorable pets.
I was greatly entertained to see these approximately 8-meter-long giants swimming vertically with their enormous mouths open near to the water's surface, eagerly swallowing the puri thrown by the fishermen.
But then I realized the fisherman gradually got stingier with the sharks and at times threw only buckets of water without puri, by which he initially called them to come to the surface.
Now the iconic species looked like hungry beggars waiting to be fed. The fishermen apparently conserved the food for the next group of western tourists who would come right after our boats were about to depart.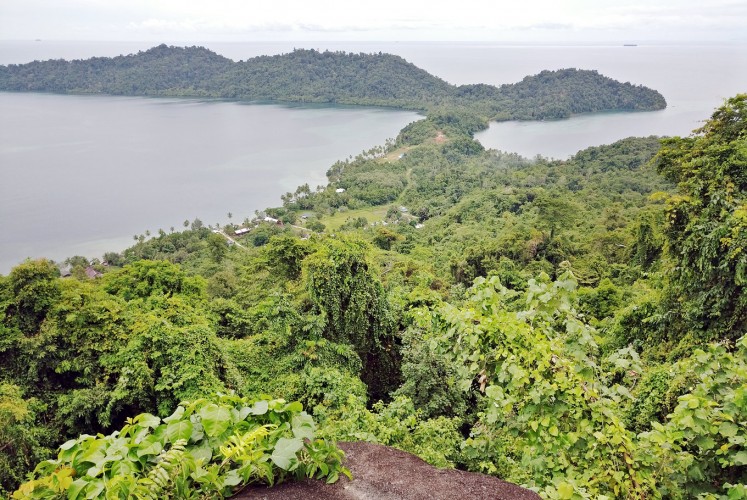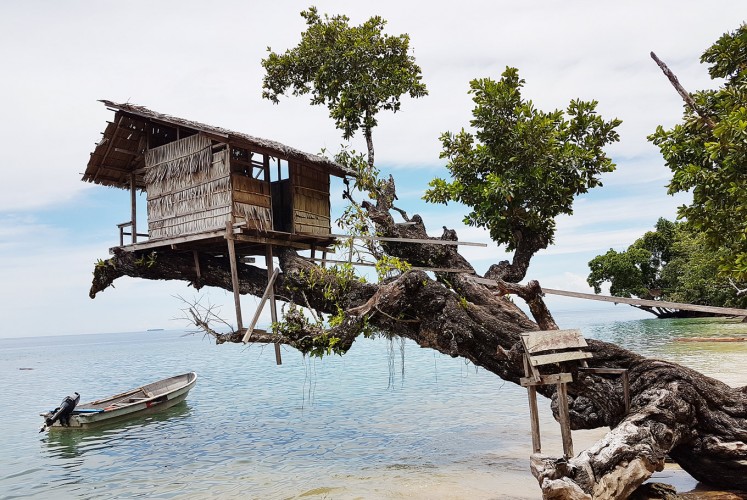 Business was good that day.
"Tourists visited the whale shark-feeding bagan almost every day, about 15 times a week, especially on the weekends," Kali Lemon Dive Resort operator Bram Maruanaya said.
On a busy day, he said, typically there are two to three trips by the bagan from Kali Lemon, adding that the best time to swim with the sharks are when the tide comes in and the sea is calm, especially in the morning between 7 a.m. and 10 a.m. and in the afternoon between 3 p.m. and 6 p.m.
"If the weather is good, we can swim with them from morning till late afternoon," Bram said.
So, gigantic size doesn't matter in this case because unlike their ferocious cousins, whale sharks are harmless, slow-moving, placid, gentle creatures, easily caught and killed and so helpless that they are nicknamed stupid sharks.
What matters is, as always, how to make money by exploiting man's fascination and fear with huge size and the adrenalin rush it generates.